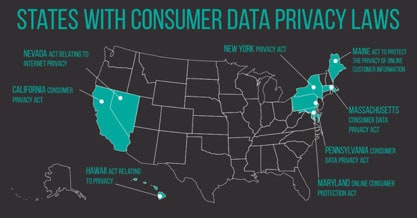 NEVADA'S ACT RELATING TO INTERNET PRIVACY
Senate Bill 220, or "An Act relating to Internet privacy," will require organizations who run websites that collect and maintain data to comply months ahead of 2020, by October 1, 2019
THE CALIFORNIA CONSUMER PRIVACY ACT (CCPA)
A state statute intended to enhance privacy rights and consumer protection for residents of California, United States. The bill was passed by the California State Legislature and signed into law by Jerry Brown, Governor of California, on June 28, 2018
HAWAII ACT RELATING TO PRIVACY
Act 10, Special Session Laws of Hawaii (SSLH) 2008, Relating to Personal Information, established the Information Privacy and Security Council (IPSC) within the Department of Accounting and General Services.
NEW YORK PRIVACY ACT
Introduced May 2019 by state senator Kevin Thomas, would give residents there more control over their data than in any other state. It would also require businesses to put their customers' privacy before their own profits. … The New York Privacy Act bears some similarity to the California law.
MAINE ACT TO PROTECT THE PRIVACY OF ONLINE CUSTOMER INFORMATION
LD 946 "An Act to Protect the Privacy of Online Customer Information" prohibits a provider of broadband Internet access service from using, disclosing, selling or permitting access to customer personal information unless the customer expressly consents to that use, disclosure, sale or access.
MASSACHUSETTS CONSUMER DATA PRIVACY ACT
Proposed legislation regulating the use of a consumer's personal and biometric information. … 341, "an Act relative to consumer data privacy," draws much of its language from the California Consumer Privacy Act of 2018 ("CCPA"), and also has some parallels to BIPA.
PENNSYLVANIA
An Act providing for consumer data privacy, for rights of consumers and duties of businesses relating to the collection of personal information and for duties of the Attorney General.
MARYLAND
Protects consumers from unfair and deceptive acts and practices, whether they occur online or offline. This law generally prevents companies from hiding important facts or falsely representing the facts related to consumer goods, services, property, or credit in Maryland
COMING SOON …
RHODE ISLAND
The Consumer Privacy Protection Act includes the standard privacy rights from the CCPA – the right to opt out (plus opt-in for privacy practices.
NEW JERSEY
Privacy law includes some of the core features of the CCPA, such as the right to opt out of the sale of personal information. However, it modifies the right to access from the one contained in the CCPA to focus on disclosures of PII to to third parties.
Reach out to INTERACTIVE SECURITY today to learn more about how to prepare and protect your business in the brave new world of State Privacy Laws! WE'RE HERE TO MAKE IT EASY ON YOU! www.intactsec.com