Interactive Security Consulting practice specializes in providing customized risk management and regulatory compliance solutions that are specifically designed to meet the needs of your company, your customers, and your regulators. We have a local team of Certified Public Accountants and Information Security Auditors with extensive experience in IT audit and compliance. Our team of advisors are available to help your organization navigate today's complex regulatory environment.
Specific Services:
     SOC Gap Analysis & Readiness
     SOC 1, Type 1 and 2
     SOC 2, Type 1 and 2
     SOC for Cybersecurity
System and Organization Control (SOC) reports were created to decrease the audit burden on service providers by establishing a standardized report that can be issued to end users. A System and Organization Control audit from a reputable firm can serve as a market differentiator for organizations seeking to appeal to a broad range of high value customers.
SOC 1 AUDITS
SOC 1 examinations, also known as SSAE 18 reports, are designed for organizations that provide services that impact their customers' financial statements or internal controls over financial reporting. SOC 1 reports are commonly requested by customers who are public or operate in highly regulated industries. Examples of organizations who receive SOC 1 reports include:
     Software-as-a-Service companies that impact customer financial reporting
     Payroll processors
     Loan servicing organizations
     Accounting software providers
     Data centers
The control objectives for a SOC 1 report are defined by the service organization based on the objectives relevant to their customers. Control objectives include a combination of IT controls and relevant business process controls.
SOC 2 AUDITS
System and Organization Control 2 examinations are more technical in nature and focus on one or more trust service principles – security, availability, processing integrity, confidentiality, and privacy. All SOC 2 examinations include a set of core common criteria that are addressed by the security principle. The criteria for availability, processing integrity, confidentiality, and privacy are separate and can be added based on the specific software or services provided by the service provider. SOC 2 reports are relevant to service organizations that are relied upon for the operational needs of their customers or for protecting sensitive customer data. Software as a Service providers and companies in industries such as FinTech, HealthTech, EdTech, Data Science, Artificial Intelligence, and Security can benefit from a SOC 2 report. The control objectives for a SOC 2 report are defined by the American Institute of Public Accountants (AICPA) and are primarily supported by IT controls.
System and Organization Control for CYBERSECURITY
SOC for Cybersecurity examinations are appropriate for any organization with cybersecurity risks, including businesses and not-for-profits. SOC for Cybersecurity is an entity-wide assessment of your organization's cybersecurity risk management program. Reports can be used by organizations to communicate the effectiveness of their cybersecurity risk management program, building trust and confidence in their market.
Types of Reports:
Type 1 report just provides a report of procedures / controls an organization has put in place as of a point in time.
Type 2 report has an audit period and provides evidence of how an organization operated its controls over a period of time.
It is important to understand that there are not more stringent control requirements in a Type 2 SOC Report; but rather, it describes how a company's control environment operated over its audit period (typically not less than six months). You can have the same controls in a Type 1 report as the Type 2; the only difference is that they are audited or examined over a period of time and testing results are reported in a SOC 1 and SOC 2 report.
Value and Benefits of Being SOC Compliant
Increased Customer Trust and Organizational Reputation
Increased Data Protection
Organizational Vulnerability Awareness
Increased Security, Availability, Processing Integrity, Confidentiality, and Privacy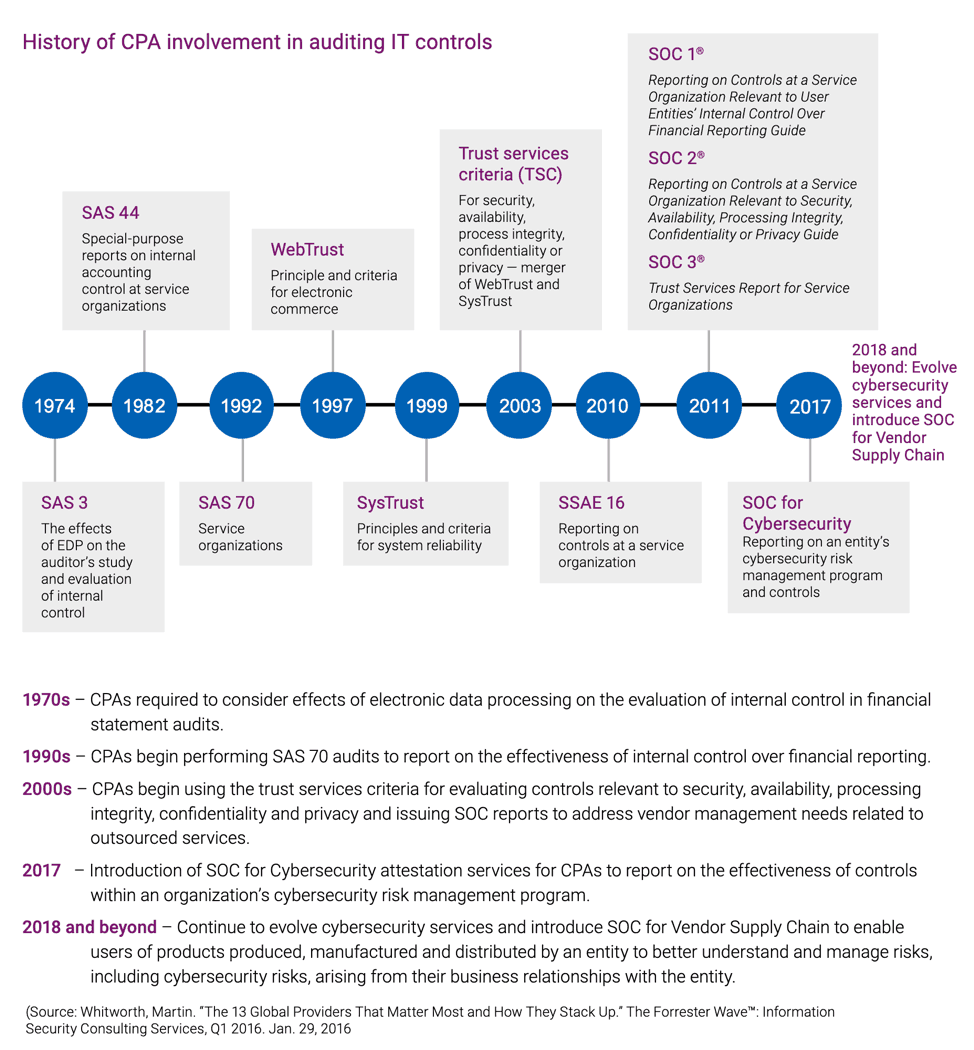 Contact the Interactive Security team at 267-824-2500 or sales@intactsec.com. We're here to help make cybersecurity and compliance audits Obtainable, Simple and Affordable!